Our hours are changing starting October 10th, 2022!
New Clinic Hours
Starting October 10th, our Urgent Care and administrative hours are moving to Wednesday – Saturday, 8:30 am to 6:30 pm.
Urgent Care Check-in
Check-in for our Urgent Care clinic will open at 8:00 am, Wednesday – Saturday (starting the week of October 10th). Please see more details in the Urgent Care Clinic tab for check-in procedures.
If we are at capacity or closed, and your pet needs more immediate care, we strongly recommend contacting a 24-hour emergency center or another veterinary clinic. You can find a list of area clinics and emergency rooms here.
Vaccine Clinic
Our Vaccine Clinic will be moving to Mondays, from 8:00 am to 5:00pm, beginning on October 10th. We are closed for administrative services during the vaccine clinic (Rx refill requests, phone and email inquiries, records requests, etc.). You can secure your preventative care visit here.
Why are these changes happening?
Like many industries, the veterinary field is dealing with a lot of COVID related challenges. Coupled with a shortage in veterinary and technical staff, we believe these changes will help us navigate some growing hurdles and ultimately help more pets in our community!
Urgent Care Clinic
Thursday – Monday
11:00 am – 9:00 pm
Registration opens each day at 9:00 am
---
Our hours are changing as of October 10th!
Wednesday – Saturday
8:30 am – 6:30 pm
Registration will open each day at 8:00 am
---
 The Urgent Care clinic is reserved for illness/injury treatment. Preventative care services (vaccinations, heartworm testing, etc.) are not offered during Urgent Care days. Please sign up separately for our Vaccine Clinic to address preventative care needs. 
How Do I Check In?
Online registration starts at 9:00 am and closes when we've filled up for the day, or at 5:00 pm.
There are 3 available visit types, so you'll need to select the right one for your pet
"Stable Illness and Injury visits" for your common injuries and ailments like ear infections, tummy upset, limping, prescription renewals, painful mouth, small puncture wounds, etc. These require diagnostics, prescription medications, and doctor involvement.
"Unstable Illness and Injury Visits" for pets who are more urgently ill or injured. They may require more immediate or extensive intervention, or even surgery. Some examples are: straining to urinate or defecate (especially in male cats), pets who are suddenly and severely vomiting, suspected toxin ingestion, suspected foreign object ingestion, difficulty breathing, open mouth breathing in cats, falls from a significant height, hit by cars, large wounds, extreme pain, etc.
"Dental Assessments" for those with generally healthy pets who just want a complimentary dental quote. If your pet is not eating, has an abscess or excessive mouth pain, or you believe they may need medication, please select the "Stable Illness and Injury Visit" option.
End of Life Visits: To best accommodate the families, we specially schedule euthanasia services. We ask that anyone in need of this service call us to discuss scheduling, instead of booking online.
Once you've selected your visit type, continue on to the next page and fill out all your information to secure your spot.
You will be directed to a confirmation page once your registration is complete!
Click here to go to the Urgent Care Registration page.
If I don't fill out the intake form/patient history, will I still be checked in?
You'll need to go through the entire check in process, until you reach a confirmation page, in order to secure your visit for the day. When you secure a spot through the initial check-in page, that spot is temporarily held (giving you ample time to fill out the intake and history form). However, you are not checked in yet, so keep going! We just need a little more information to complete your registration. Once you complete the intake and history form you will be directed to a confirmation page. If you do not reach the confirmation page, we will not receive your check-in information and your visit will not be saved.
What if my visit type is at capacity?
Unlike a 24-hour emergency center, we do close at night. That means there is a limit to the number of patients that we can see in a day, and a limited number of corresponding visit types. We're open until 9:00 pm, but its not uncommon for us to reach capacity right away in the morning. We always recommend checking in early if you'd like a guaranteed spot for the day. We do also have a "non-guaranteed waitlist" option available so we can see as many patients as possible each day. If someone cancels, or we finish earlier than anticipated, we will pull patients off the waitlist to see at the end of the night.
If we are full and your pet needs more immediate care, we strongly recommend contacting a 24-hour emergency center or another veterinary clinic. You can find a list of area clinics and emergency rooms here.
Can I walk-in and secure a visit?
Check-in will now be completely online. Our reception staff will be happy to help you check in using the online system when we open at 11:00. However, we do fill up quite rapidly most days and may be at capacity by time we open. All other clients will be given the option to be added to the non-guaranteed waitlist.
I've checked in. When will I be seen?
Visits can take place anytime between 11:00 am and 9:00 pm. Visits are based on medical need so emergent and urgent visits will be seen first. Unlike a traditional Urgent Care, we do not require clients to wait at the clinic until it is their turn. We do our best to estimate your visit time and will notify you when it is closer to your turn. Patient concerns vary widely and can require drastically different time commitments, so we can not guarantee visit times. Once you arrive, you may still need to wait for your visit to start.
How will I be notified for my visit?
If authorized, you will receive a text notification when there are two people ahead of you (an estimated time of one hour).  That way, if you're out running errands or eating lunch, you have some time to finish up and head back! Text notifications may go out anytime between 10 am and 8 pm. If you do not confirm your visit within 15 minutes, or if you don't have text notifications authorized, we will call. If we are unable to get a hold of you by phone, we will move on to the next client and slide you down on the list. We will still attempt to contact you a little later to see if you'd like to be seen that day or cancel your visit.
Is it safe for my pet to wait to be seen?
If we are closed or at capacity and you think your pet has an immediate, life threatening illness or injury, we always recommend going straight to an ER. If your pet is not actively in danger, but still seems like they may need to be prioritized, we will be providing a triage at 11:00 am.  Please meet our medical team at the main entrance when we open so they can assess the stability of your pet. If your pet is stable enough to wait, we will have you come back later. If they are unstable, in need of extensive diagnostics, a sedated procedure, or hospitalization, we will ask you to stay while we get together your pet's care plan.
What should I do when I get there?
Please remain in your car when you arrive and let us know where you're parked. You can do this by replying to our notification text, by giving us a call, or even by e-mail! See our COVID policy for more information.
Can I schedule a visit?
We are primarily an Urgent Care clinic so we don't schedule visits in advance. The only visits we currently schedule are end of life procedures, dentals, and surgical procedures. Apart from end of life services, all scheduled visits are done after an initial consult and generally cannot be done prior to establishing care with one of our providers.
Should I let you know if my pet or I have food allergies?
Absolutely! We have a wide variety of treats we use to make our patients happy, including peanut butter. If your pet has a protein allergy (chicken, beef, etc.) or if you have a peanut, fish, or other severe allergy, please let us know!
I'm at the Emergency Room with my pet and they need surgery. Can Access do that surgery?
In most cases, yes! We have a great relationship with the emergency rooms and can handle a variety of emergency surgeries, including removing foreign objects, pyometras, cystotomies, C-sections, trauma and more. It's perfectly fair for you to ask the ER if your pet is stable enough to be transferred elsewhere for a surgery and then give us a call to check our availability.
Vaccine Clinic and Preventative Care
Now Every Wednesday!
8:00 am – 5:00 pm
Registration is open up to four weeks advance!
How do I Check-in?
Go to this page:  Vaccine Clinic check-in
Select the available vaccine clinic date in green
Select your preferred appointment time, then continue to the next page
Fill out all requested information about you and your pet to secure your spot!
Once your registration is complete, you will be directed to a confirmation page and an e-mail confirmation will be sent to you!
What services are offered?
At our Vaccine Clinic, we will be offering:
Healthy Pet Visits
Vaccinations
Microchipping
Heartworm/Tick Borne Disease Screening
Routine Fecal Tests
Heartworm, Flea & Tick Preventatives
We are currently no longer offering the following services. This may change in the future, so please check back for updates!:
Nail Trims
Anal Gland Expressions
What if the date I want is in purple?
Open registration dates appear in green. Any dates in purple are either unavailable or at capacity. If your preferred date is at capacity, feel free to keep checking back with the Vaccine Clinic page! If someone cancels their visit, the registration site will immediately open that time slot back up.
Why don't you do preventative care during the Urgent Care clinic? Why is there a separate Vaccine Clinic?
Anyone who has a sick pet will tell you how challenging it is to get into a veterinarian right now. COVID-19 and changes in the veterinary industry has spiked demand and lowered capacity. As an urgent care center, Access Veterinary Care feels an obligation to see the sick and injured pets that need us most.  This approach is more effective and efficient at providing both urgent care and preventative care services.
We know that our friends and neighbors have trusted us to provide all care, including routine vaccines.  This switch will allow us to provide safe, quality veterinary care for all your pet's needs.
I signed up, but now need to change my booking time, modify my information, or cancel my appointment.  What do I do?
In the confirmation email that you received, there is a link provided that will let you modify or cancel your visit.  If you deleted your confirmation email, give our office a call!
Do you call me in for my visit like with the Urgent Care Clinic?
While you may receive a reminder e-mail or text a couple days prior to the vaccine clinic, we will not call you day of. The appointment time you made is when we'll begin your visit. When you arrive for your scheduled time, go ahead and stop in our entryway (masks are required, please see our COVID policy for more information). We'll confirm which services you'd like and which you're pet is eligible to receive, and then get you started! Each vaccination appointment is approximately 15 minutes long (per pet).
If you would to speak with us via phone or e-mail, our administrative team is in office Thursday – Monday, 11:00 am – 9:00 pm. They are not in office Tuesdays or Wednesdays. 
What if I don't have my pet's records?
We highly encourage people to send us their pet's records beforehand or bring them to your visit. If you can not get your pets records, we will vaccinate as if they have no vaccine history. If you are able to acquire your pet's records after the fact, we may be able to amend how long your pet's vaccine is active for. For example, the canine rabies vaccination can be active for 1 year if the pet is of a certain age or does not have a vaccine history. If the pet is up to date on vaccinations and of a certain age, their rabies vaccination could remain active for 3 years.
We are unable to contact your provider and obtain records for you.
COVID Policies
Am I allowed to be in the building with my pet?
Due to COVID, we have adopted a modified curbside care which means you won't be able to be with your pet during their visit. We may make exceptions in the case of end of life procedures or critically ill patients. Those exceptions will be at the discretion of the attending veterinarian. Only our vestibule will be open to the public and a face-covering is still required. Acceptable face coverings include masks, or shields with a mask underneath. Open face shields, face shields without a mask, neck gators, or t-shirts pulled up and over the mouth will not be allowed. If you do not have a face covering, or cannot wear one, we ask that you call us and do not enter the building.
What precautions are you taking during COVID-19?
We've added online check-in partially to accommodate the changing needs caused by COVID-19. You can now check-in online, or on our kiosk as a low or no-contact solution
We've adopted curbside care to limit exposure between our clients and staff.
Hand sanitizers are provided in public spaces
Staff and clients inside the building are required to wear a face mask at all times.
All clipboards, pens, etc. are sanitized after each use.
Even in critical cases, only up to two family members are allowed in the building with their pet. Other family members are encouraged to wait outside or in their vehicles. If your family would like to be present for an end of life procedure, please call us to discuss arrangements.
All exams and diagnostics will be performed away from the owner to accommodate CDC recommendations and reduce contact time.
Exam rooms are extensively cleaned between each patient visit and at the end of each day
At 8:00 pm we start deep cleaning public spaces to prepare for the next morning.
What days are you open during COVID-19?
Unless there are staff illnesses, we will be open our regular days of Thursday-Monday (closed for walk-ins on Tuesday and Wednesday). We will keep the website and our Facebook page updated if any closures or changes in hours occur. Hours are 11 am-9 pm, but we do often hit our "max capacity" early on, so at some point we stop taking new visits. Feel free to give us a call to check how our day is going!
Financial Information
Do you run on a sliding scale basis?
Access Veterinary Care is a for profit clinic, so we don't have the functionality to run on a sliding scale basis; however, we do encourage owners to let us know if they're facing budget constraints. We do our best to do what we can within your budget. We may also be able to help point you in the direction of additional financial resources.
Do you offer payment plans?
We do not offer in house payment plans. Payment is due at time of service. However, we do accept grants, CareCredit, and ScratchPay. Arrangements and applications for these should be made in advance.
Financial Resources:
Local Grant Foundations
National Grant Foundations
Cancer Grant Foundations
Crowd Sourcing
Technical Issues: Urgent Care Check-In
The initial check-in form/button should look something like the picture below. If that's not what you're seeing, there may be a few reasons why: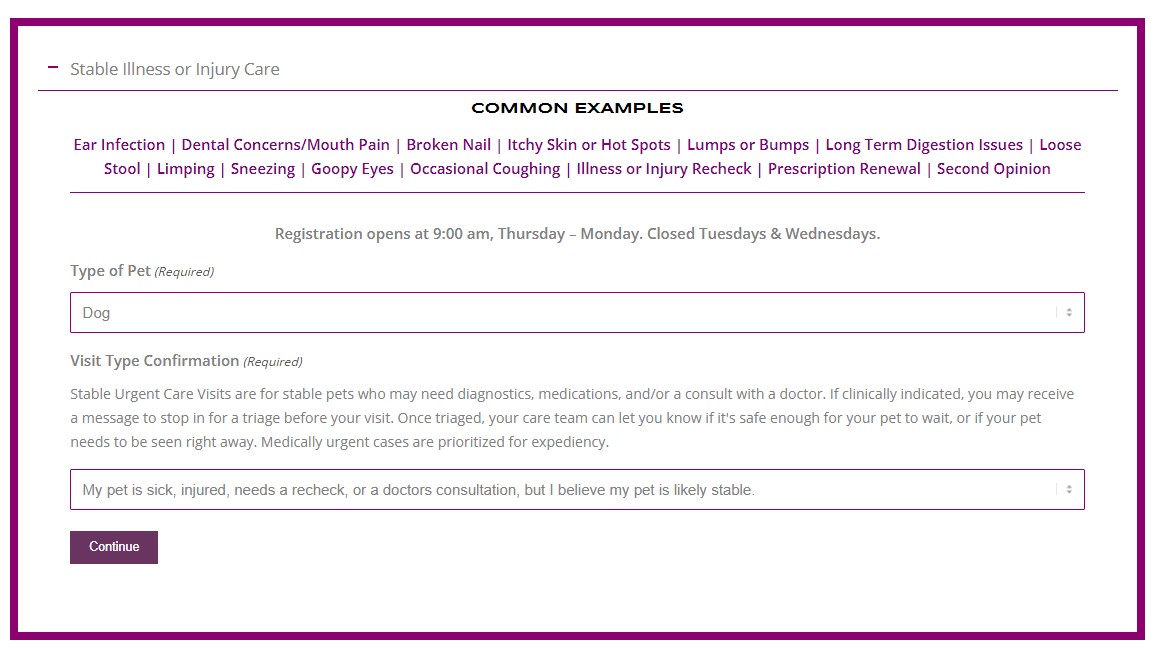 ---
If you selected "continue" and the page refreshed with a "we're at capacity" notice, all visits were taken before "continue" was selected. While our system is as up to date as possible, the updates are not "live". They can only show when action is taken on the page such as selecting a visit type, or refreshing the page. We apologize for any confusion this may cause. We always recommend signing up for our non-guaranteed waitlist just in case we're able to accommodate additional visits at the end of the night, or trying us again right at 9:00 am Thursday – Monday.
---
If you aren't seeing anything, like in the picture below, applying one of the following fixes may be helpful:
Scroll down (Especially on smartphones, it can appear as though this section is missing until you scroll down)
Refresh your browser (Your computer may be caching old page elements)
Use a different browser (Your browser may be out of date/unable to support the necessary plugins)
Use your smartphone (Smartphones are generally up to date with all the latest extensions and do very well with the check-in pages)

---
If you are seeing one of the following messages we have reached capacity for that visit type:
"We have reached anticipated capacity for this visit type. Please fill out the form below to be added to the non-guaranteed waitlist. If your pet has more immediate needs, please see the link provided above titled "List of Area Clinics"

---
If you are seeing the following message check-in is closed (we are no longer receiving):
"Check-in Opens at 9:00 am Thursday – Monday"

---
If the aforementioned fixes aren't working, we recommend asking a friend or family member to help you at 9:00 am. We're always happy to help when we open at 11:00 am, but there is no guarantee we will still have visits available.
---
Can I call and get technical support?
While our receptionists are happy to try and walk you through some solutions when we're open, issues with check in are likely due to your specific device. We recommend updating your device, using a different device, or using a different browser if you're experiencing issues.
Staff is unavailable outside of these hours:
Thursday – Monday, 11:00 am – 9:00 pm.
Please be aware that call and e-mail volumes are currently higher than normal.
Technical Issues: Vaccine Clinic
If you're having trouble signing up during the registration period, please contact us and we'll do our best to walk you through it!
If the system says booking is no longer available for that date/time, we have reached capacity. However, the system will automatically update if someone cancels, so feel free to keep an eye out on any last minute openings!
You can modify your personal information, your pet's information, select a new time, or cancel your booking all from the link on your original confirmation e-mail! If you're having trouble modifying your visit, please send us a message through our contact us page.